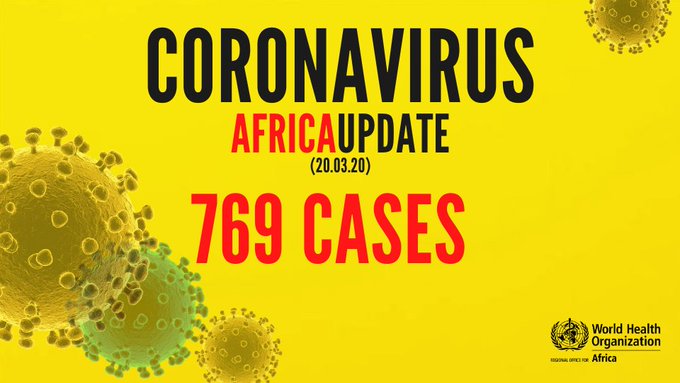 There are great concerns across the world as coronavirus spreads across countries and continents, with the death toll climbing up at a frightening rate.
At the time of filing this report, data from the World Health Organisation states that there are 234,073 confirmed cases and 9,840 deaths in 169 countries.
According to the WHO African Region, Africa has more than 700 confirmed cases of Covid-19 in 33 countries, as of Thursday, March 19; a jump from 147 cases within one week.
WHO lists below the African countries with confirmed cases of the widely spreading deadly virus. The data is sourced from the WHO African region, as of Friday, March 20.
Coronavirus: Here are 33 African countries with confirmed Covid-19 cases
Nigeria's health minister, Dr Osagie Ehanire
Egypt tops the list with 210 cases, South Africa follows closely with 150 while Algeria occupies the third spot with 83 cases.
Central African Republic, Gambia, Swaziland, Sudan, and Chad all have one case each at the time of filing this report.
Coronavirus: Religion and 2 other reasons Lagos lockdown may be impossible
LIST:
Egypt – 210
South Africa – 150
Algeria – 83
Morocco – 61
Burkina Faso – 40
Tunisia – 39
Senegal – 38
Cameroon – 15
Congo – 14
Nigeria – 12
Ghana – 11
Rwanda – 11
Côte d'Ivoire – 9
Ethiopia – 9
Togo – 9
Kenya – 7
Mauritius – 7
Seychelles – 6
Tanzania – 6
Equatorial Guinea – 4
Congo – Brazzaville – 3
Gabon – 3
Namibia – 3
Benin – 2
Guinea – 2
Liberia – 2
Mauritania – 2
Zambia – 2
Central African Republic – 1
Gambia – 1
Swaziland – 1
Sudan – 1
Chad – 1
WHO African Region
✔
@WHOAFRO
210🇪🇬EGY
150🇿🇦ZAF
83🇩🇿DZA
61🇲🇦MAR
40🇧🇫BFA
39🇹🇳TUN
38🇸🇳SEN
15🇨🇲CMR
14🇨🇩COD
12🇳🇬NGA
11🇬🇭GHA
11🇷🇼RWA
9🇨🇮CIV
9🇪🇹ETH
9🇹🇬TGO
7🇰🇪KEN
7🇲🇺MUS
6🇸🇨SYC
6🇹🇿TZA
4🇬🇶GNQ
3🇨🇬COG
3🇬🇦GAB
3🇳🇦NAM
2🇧🇯BEN
2🇬🇳GIN
2🇱🇷LBR
2🇲🇷MTR
2🇿🇲ZMB
1🇨🇫CAF
1🇬🇲GMB
1🇸🇿SWZ
1🇸🇩SDN
1🇹🇩TCD